Most people start out with a free account on Geocaching.com, and while I've no idea about the exact figures, it's likely that most are happy with that. Groundspeak offer a Premium service too, and that offers a wealth of added extras for members too on top of those in the free tier.
If you are serious about Geocaching rather than just participating on an ad-hoc basis, then the Premium membership from Groundspeak at Geocaching.com makes a lot of sense. For just $30 a year, you get access to a much larger database of Caches along with other perks too.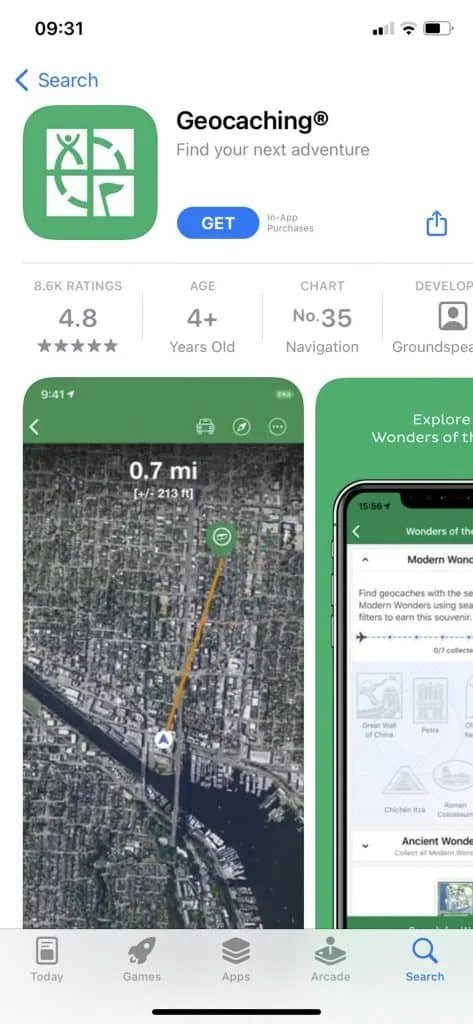 What Do You Get For Premium Geocaching?
According to the official Geocaching website from Groundspeak, there are plenty of benefits for paid members.
Here's the key parts:
Advanced Geocaches
Premium Geocaches
Offline Maps
Notifications
Not all functions that are limited to premium members are available in the smartphone app, some need to be used on the Geocaching.com website.
Advanced Geocaches
Advanced Geocaches are locations that are hard to find or hard to get to, and therefore assigned a higher difficulty rating. Both difficulty and terrain are given scores on a scale of one to five for each Geocache.
A score of five on the difficulty scale is considered the hardest and may require a lot of time to find or effort to solve. Higher scores on the terrain scale mean they're physically toughest to reach, and therefore may be unsuitable for children, the elderly or those who are not extremely fit.
At the peak of the scale, you may even need specialist equipment to access the location such as abseiling. For this reason, it's advisable not to attempt difficulty levels above three or three and a half unless you know what you're getting yourself into!
At the more pleasant end of the scale for most of us, a difficulty of one should take very little time to find once you're at the approximate location from the Cache clue. Similarly a terrain score of one will typically mean nothing more than a leisurely walk along a flat and safe surface for most people to locate.
Premium Geocaches
Premium Caches are exactly what they say on the tin! Only those players with a premium membership can see them in the system, meaning that access will open up a whole new set of adventures in your area!
It's the Cache owner that decides whether their efforts are visible by everyone or just premium users, so they can appear anywhere. Some players like to keep their Caches away from free users, simply because that's one step further away from their hidden item being found by Muggles.
Offline Maps
Offline map functions mean you can download data to your device including Cache location information as well as the maps themselves.
Some users have assumed that this is designed to benefit players with limited data plans on their phones, but actually it's also to solve the problem of patchy connections when you're in the middle of nowhere trying to use the app!
Notifications
Finally, one of the most exciting features that benefits Premium subscribers is the notifications that are activated. It means that you can be the first to hear about new developments in Geocaching.
What's more, there's a local element to it too, so you can get a head start on other player in being First To Find (FTF) new caches as they're released by owners.
Is It Worth Getting Geocache Premium?
To get the most out of your adventures while geocaching, premium membership does offer a lot more bells and whistles. For example, you can set up a sequence of Caches to find along a route to make a day of trekking more exciting for the family.
The $30 price tag for a year's membership is very affordable, and you'll only need one person to be a member in your party to enjoy the benefits. If one parent has access to Geocaching Premium then they can use their account to plan days out and download the details of caches, routes and maps to their iPhone or Android device.
How Do I Get Free Premium Geocaching?
Some people qualify for a free account on the Premium platform, meaning that they don't even need to stump up the $30 annual fee.
An example of a user that might qualify is the manager of a park who might have Caches hidden on the land they look after. This means that they can be more aware of activity that might be going on that would otherwise seem suspicious. The same goes for law enforcement, who have a growing awareness of the Geocaching community and that they are just out having fun!
Why Do I Have To Pay For A Premium Account?
It may seem strange to have to pay to get the most out of Geocaching. After all, it's all done in the great outdoors, usually on public land.
There are a lot of costs to Groundspeak in order to keep the sport running smoothly, not least keeping the website and app up to date.
Technology can get expensive to run very quickly, and the Cache database alone now runs to over three million locations around the globe!
Membership fees cover the costs of creating and running the service, as well as all the innovations that members love to see appear to continually add new features.
Should Everyone Go Premium?
While there are clear advantages to signing up for a Premium membership, we'd stop short at suggesting everyone should rush to join.
The most obvious reason is that beginners need to give Geocaching a try first before spending money on anything other than the essentials.
There's plenty to get started with on the free edition of the app (formerly known as Geocaching Intro) and website, and no reason at all to pay to upgrade before you head out on the first few Geocaching trips.
Once you've had a few practice runs, you'll almost certainly be as hooked as I was when I started Caching, and then you'll know it's worth that small extra payment of $30 a year which works out at just $2.50. Of course, if you're not in the USA, then you can pay on a credit card and will be charged accordingly with a small conversion fee.