Some abbreviations, like BYOP or TFTC are shorthand ways of writing common terms in geocaching logs when you locate the prize you've set out to find. There are other acronyms that are associated with the sport that are used in more general references by Geocachers, one of which is TOTT.
TOTT means Tools Of The Trade. Depending on the context, it may refer to a specific tool or a collection of tools carried when out and about hunting for Caches.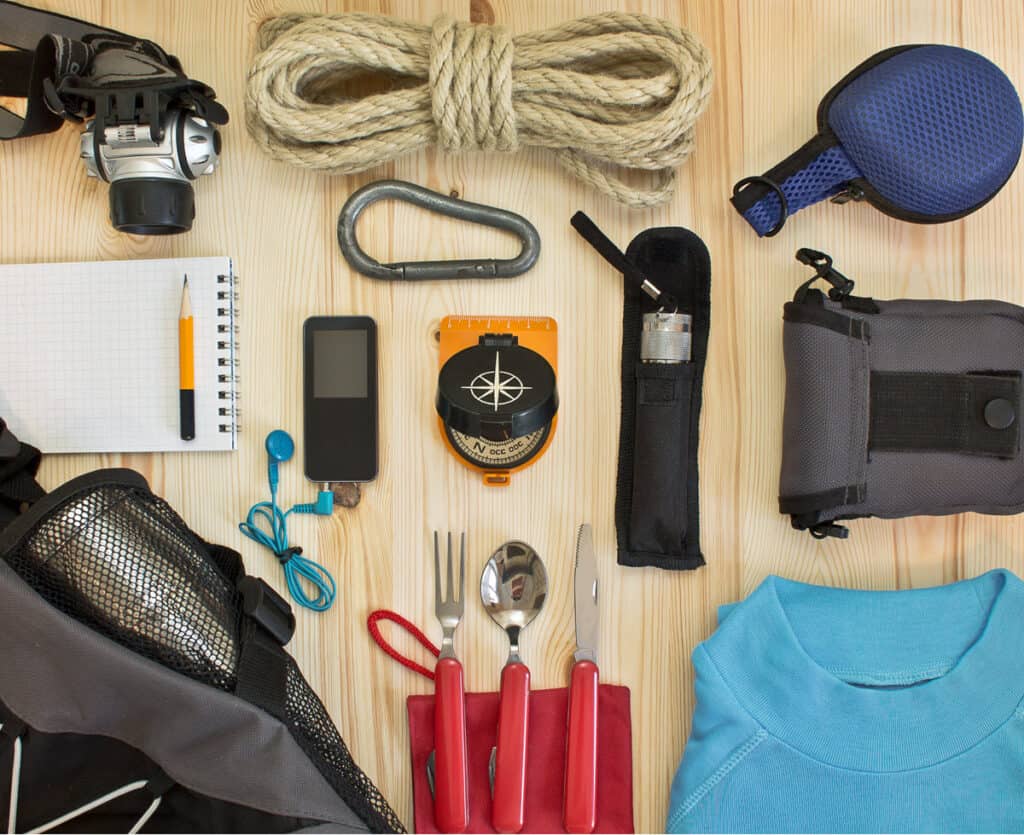 There are some items that you'll always need to hand when you're hunting for a Geocache, the most obvious being a GPS receiver. These days, most people use a mobile phone to do that as it doubles up as a way to look up the co-ordinates of caches to find too.
If you're doing things the traditional way, using a dedicated GPS receiver, you may need to note down the details to find the geocache from the website at geocaching.com before you set off. In that case, paper and a pencil may be an essential Tool of the Trade too!
More modern GPS devices are now available with Geocaching friendly functions built in – for example the ability to store thousands of Geocache locations on the device, making them a better choice for Geocaching enthusiasts who love to have all the best kit.
A popular example of a GPS receiver in the Caching community is the Garmin eTrex 30x. It's a model that's not getting a little old in the tooth, so can be a little tricky to get hold of. You can often pick up a second hand unit for less than the cost of a new model though.
By choosing a GPS with storage capabilities to download Cache data to, you reduce the need for separate pieces of paper to hand as you're out and about – useful for urban locations for searches.
When you're out and about in the wilderness, it's more important to think in terms of safety than in the comfort of the big smoke.
If you're potentially trekking for hours to locate a remote Cache, then you need to be prepared with far more kit. For that reason, there's a lot more that you'll need to carry, making up a far more extensive set of TOTT.
Geocaching TOTT Checklist
Let's take a look at a range of potential items you might like to consider packing into your bag when heading out Geocaching.
What You Need
Why You Need It
Where We'd Suggest To Get It
Flashlight
If you're away from civilization, there's always the chance of getting lost. Safety is paramount, and a good flashlight is essential when night falls.
Amazon
Batteries
Spare batteries are a wise thing to carry in case you need them. The obvious example is the flashlight running flat, so you can get the lights back on!
Amazon
Walmart
Cell phone (aka mobile phone in Europe)
If you need help quickly, a mobile phone can be a lifesaver. There's no guarantee that you'll have signal wherever disaster strikes, but at least if you've got your phone you've got a chance of raising the alarm.
Hopefully you've got one!
Power bank
Just like your flashlight, phones can die at just the wrong moment too. Carrying a power bank (and cable) can get you connected again quickly, and charge your phone up several times. Just remember to keep it topped up regularly before you go.
Amazon
First aid kit
Band aids, bandages, antiseptic wipes, bug repellents, bite creams and more are all likely to be needed at one time or another. If you're out and about Geocaching a lot, you're going to have the odd scrape from time to time. A small, lightweight first aid kit is an essential item that's not too heavy to carry around. Replace items as you use them so you're not caught out next time!
Amazon
Walmart
Walgreens
CVS
Tweezers
You might find these in your first aid kit, but this time we're talking about accessing the Cache. Some are really small, and need precision to access, as well as a gentle touch. Pulling a log from a tiny tube, or retrieving your prize from a small hole might be impossible with your fingers, so make sure you've got at least one pair of tweezers handy, if not a few in varying sizes!
Amazon
Walmart
Walgreens
CVS
Notebook
You never know when you'll need to remember something, so a small notebook is a wise item to keep nearby. You can scribble down clues in Geocaching puzzles, rip out a page to leave a note in a Cache, or just keep a record of something to add to online logging later when you get home.
Amazon
Walmart
Target
Staples
Anywhere!
Pen/Pencil
Don't forget to BYOP! When you find your cache, you'll likely want ot add to any log that might be present, and for that you need something to write with. No pen or pencil, no TFTC! And that's just rude.
Amazon
Walmart
Target
Staples
Anywhere!
Whistle
Returning to the safety angle, it's a good idea to have a whistle handy. If you have an accident and need to attract attention, they're easy to operate and can be heard from great distances. It's an item that you'll hopefully never need, but if you do, you'll be pleased you had it!
Amazon
Hand Sanitizer
Here's something that's suddenly everywhere since 2020, hand sanitizer! It's probably something we should all be better at carrying anyway, as you never quite know what you've just put your hand in. If you're like me, you've likely bought sanitizer by the bucket load over the last couple of years, so hopefully you've got plenty available. If not, it's easy to get hold of.
Amazon
Walmart
Walgreens
CVS
Sunscreen
The importance of sunscreen will vary depending on where in the world you are, but if you're out absorbing rays all day, think of your skin. As a man with less hair every day, I can vouch for how easy it is to burn. A quick application before you start your hunt is a prudent way to protect yourself, even if the sun never shows itself all day!
Amazon
Walmart
Walgreens
CVS
Water
Geocaching is great exercise, and can take a while. Make sure you can stay hydrated with a decent water supply available. It's a tough balance between enough to drink and too much to carry, so think carefully about how far from civilization you're planning to travel. In a city it's likely unnecessary, but at the other extreme it's far more important!
The faucet
Grocery store
Food
The same applies with food as water. Re-fueling regularly can help you stay alert mentally, especially on physically demanding treks in search of a cache. Some clues to find them can be quite cryptic puzzles, so having your brain in gear can be a huge bonus.
Grocery store
Warm and waterproof clothing
Rain can arrive fast, almost anywhere on the planet. Having a way to stay warm and dry can be important, and in many cases dry is the most important part. Therefore, at least a poncho is a good choice.
Amazon
While some Geocachers will argue that TOTT refers specifically to items that are used to handle, open and work with the Caches themselves, in our view the Tools Of The Trade cover everything you might need for a successful and enjoyable Geocaching adventure.
No doubt we've missed some items that we could have included above, so we'll add anything that springs to mind in the future to the list.